BOWEN HR560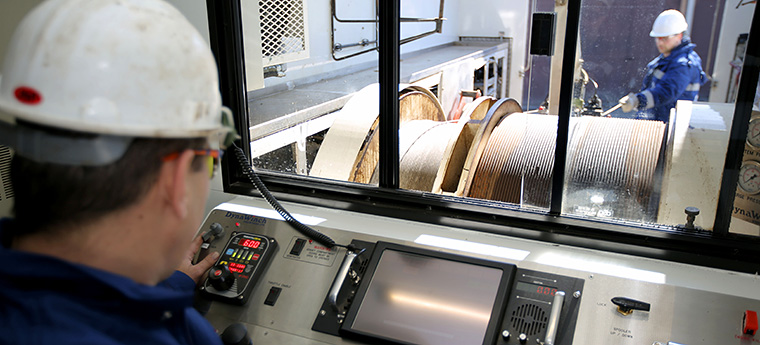 BOWEN  35-MS CTU-II
Technical data:
Manufacturer BOWEN
Type 35 MS
Year of production 1991
Regular operative tubing 1 ¼¨ (diam. 31.75 x 2.2 mm)
Recomended max. Operating tubing pulling force : 7800 kg(15 600 lb)
Burst pressure of a new tubing 825 Bar(12 000 Psi)
Tubing test pressure 517 Bar(7 500 Psi)
Recomended max. Tubing working pressure 380 Bar(5 500 Psi)
Recomended max. Water circulation through tubing 151 l/min.
Recomended max. operative well depth 4800 m(16 000 ft)
Max. well head working pressure 350 Bars(5 000 Psi)
Max. designed velocity of pulling out and running in tubing:
76 m/min.(250 ft/min)with force    7 950 kg(17 500 lb)
Reduced velocity of pulling out and running in tubing:
38 m/min(125 ft/min) with force    15 900 kg(35 000 lb)
Injecot (max. force)15 900 kg(35 000 lb)
Preventer and sealing assembly 690 Bars(10 000 Psi)
Tubing length on drum    5 000 m    (16 400 ft)
Hoist:
Manufacturer NATIONAL
Type series 600B with telescopic doublesection arrow, hook with one sheave and two ropes
Crane reach 11,6 m(38 ft)
Winch power 7,2 t(15 840 lb)
Max. carrying capacity (optimum crane angle): 14 t(30 870 lb)
Drive engine 238 HP at 2 100 rpm
Mud pump:
Manufacturer: GARDNER-DENVER
Type: PE-8 triplex with plungers
Plunger diameter: 63,5 mm (2,5 ¨)
Pump working pressure: 343 bar    (5 000 Psi)
Pump max. pressure: 686 Bar (10 000 Psi)
Note:
This unit doesn`t require precise installment on the well head. It is equipped with high pressure hydraulic hoses, length 35 m, wrapped on three drums, for BOP equipment operation, enabling operations on pony substructure (with own hoist), as well as on higher substructure (with other hoist of higher capacity). BOP equipment and complete injector during operations can be hanged on tracelling block. In this manner drilling operations can be performed on the biggest rigs. This equipment was not design to work on extreme cold temperature.
Transportation sizes:
Total unit length with vehicle: 18,30 m
Width: 2,50 m
Height: 4,15 m
Vehicle saddle height: 1,55 m
Weight: 52,60 t
Number of shafts: 6
Highest shaft pressure: 9,30 t