Nitrogen Unit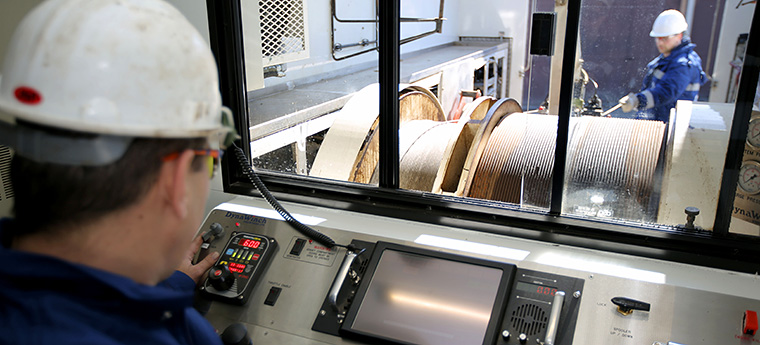 Nitrogen pumping unit AP-II
THIS NITROGEN PUMPING UNIT  IS MOUNTED ON A TRAILER AND CONSISTS OF THREE MAIN COMPONENTS; STORAGE TANK, PUMPING SYSTEM AND HEATER (VAPORIZER).
Liquid nitrogen is stored in a special pressure vessel at -1950 C. (-3200 F.). The vessel is actually no more than a large twin shelled "thermos bottle. The inner tank is a stainless steel pressure vessel which holds the liquid nitrogen. While the outer steel shell provides the insulating space on which a near vacuum is drawn. Approximately 8" of special "perlite" insulation and polished inner surfaces further help reduce radiant heat transfer. Liquid nitrogen in storage does loose a small percentage of product continuously to vaporization, but can be stored for an extended number of weeks with minimal product loss. Liquid nitrogen from the tank flows to a "boost pump" through stainless steel pipes. This boost pump is a hydraulic centrifugal pump with cryogenic liquid handling capabilities. The boost pump raises the pressure of the liquid nitrogen up to 827 kPa (120 PSI). The nitrogen at 827 kPa (120 PSI) is then fed to a high pressure cryogenic pump. This pump is a positive displacement "Triplex" pump that can deliver pressures up to 10,000 PSI (70 mpa). The "Triplex" pump raises the pressure of the liquid nitrogen up to required working pressures. From the high pressure pump the liquid nitrogen is forced through a series of stainless steel coils which are heated by hot air from a diesel burner. The liquid nitrogen in these coils absorbs heat and is gasified. This gaseous nitrogen at 100 – 650 C. (500 – 1500 F.) is the final product which flows down the line for its various service applications.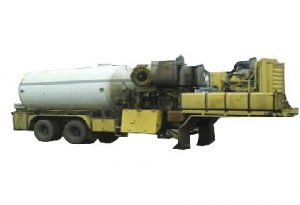 APPLICATIONS OF NITROGEN PUMPING UNIT   AP-II
ACIDIZING AND FRACTURING:
N2 added to fluids promotes flow back without swabbing.
Quicker return to production, better clean-up, improved productivity will result.
DRY SHOOTING:
N2 displacement of well fluids prior to perforating eliminates swabbing, prevents formation contamination and reduces rig time.
HYDRAULIC PERFORATING:
N2 gives up to 300 percent increase in penetration, results in greater well production and reduces the need, in some cases, for stimulation.
KICKING A WELL IN:
For completion, swabbing is eliminated, and rig time is reduced when the well is brought in by circulation with N2 gas.
OPERATING TOOLS AND PACKERS:
Use of N2 eliminates failures during setting ef inflatable packer, prevents dilution orcontaminationofformation fluids.
CORROSION INHIBITION
N2 greatly increases speed of treatment, provides uniform inhibitor contact, eliminates swabbing.
DRILL STEM TESTING:
N2 eliminates sample contamination and reduces packer failures during drill stem testing, providing a true sample of reservoir fluids.
GASEOUS DRILLING:
N2 drilling eliminates danger of downhole explosions, and reduces compression requirements.
COMBATTING LOST CIRCULATION:
N2 quickly reduces mud column weight yet gives easy removal of gas when mud weight needs to be restored. In related industries to the oilfield, nitrogen is seeing increasing application in natural gas plants, refineries and pipelines.
PURGING:
Inert N 2. used for purging of vessels and pipelines eliminates internal explosion hazard during start ups or facility repairs.
PRESSURE TESTING:
N2 provides a quick, dry test without internal explosion hazard, and with no test fluids left in lines or vessels.
| NITROGEN PUMPING UNIT | |
| --- | --- |
| Manufacturer | CANADIAN FRACMASTER LTD. |
| Model | Trailer mounted nitrogen unit 055 |
| Serial number | CFM 01988001 |
| Year of production | 1988. |
| Weight with liquid nitrogen | 23 810 Kg |
| Weight without liquid nitrogen | 15 350 Kg |
| TRAILER | |
| --- | --- |
| Manufacturer | FRUEHAUF |
| Serial number | 2H8V03629KT000101 |
| Number of axles | two/td> |
| Number of tires | eight + one |
| Dimension of tires | 11 X R22.5 |
| Pressure in tires | 700 Kpa |
| NITROGEN PUMING UNIT CAPACITY | |
| --- | --- |
| Volume of gaseous nitrogen for cold end ID 2″ | 15 300 Sm 3 /h on 686 bar |
| Volume of gaseous nitrogen for cold end ID 2.5″ | 9 300 Sm 3 /h on 535 bar |
| CRYOGENIC STORAGE TANK | |
| --- | --- |
| Manufacturer | LOX EQUIPMENT COMPANY |
| Serial number | 30197 |
| Tank volume | 11.35 m 3 (3000 gal.) |
| Maximum work volume of liquid nitrogen | 10.2 m 3 |
| Weight of liquid nitrogen | 8230 Kg |
| Gaseous nitrogen volume | 7000 Nm 3 |
| Pressure in tank during storage and transport | 105 Kpa (15 psi) |
| Working pressure | 275 Kpa (40 psi) |
| Test pressure | 440 Kpa (64 psi) |
| Vacuum between walls of tank | 1 – 10 Pa |
| Nitrogen storage lost | 40 – 80 kg/day |
​​
| BOOST PUMP | |
| --- | --- |
| Manufacturer | AIRCO CRYOGENICS |
| Type | 1 1/2″  x 2 1/2″ x 6″ |
| Serial number | 88659931 |
| Maximum pressure | 827 Kpa (120 psi) |
| Maximum flow rate | 378 l/min (100 GPM) |
| Maximum power | 5.5 Kw (7.5 Ks) |
| Hydraulic drive motor | VOLVO F11-5 |
| Hydraulic pressure | 13 790 Kpa (2000 psi) |
​
| HIGH PRESSURE "TRIPLEX" PUMP | |
| --- | --- |
| Manufacturer | AIRCO CRYOGENICS |
| Type | 3-LMPD with gear box |
| Serial number | 821434719 |
| Gear box ratio | 1:2.615 |
| Maximum RPM | 900 rev./min |
| Maximum power | 350 Kw (476 Ks) |
| Pistons stroke | 50.8 mm (2″) |
| Piston OD | 50.8 mm (2″) and 63.5 mm (2.5″) |
| Maximum LN 2 flow rate | 236 l/min and 370 l/min |
| Maximum WP | 686 bar (10 000 psi) |
| Lube pressure | 410 – 550 Kpa ( 60-80 psi) |
| Oil volume | 180 l |
​
| VAPORIZER BURNERS  | |
| --- | --- |
| Fan | Centrifugal with hydraulic motor |
| Hydraulic pressure | 13 790 Kpa ( 2000 psi) |
| Maximum RPM | 2700 rev./min |
| Combustion chamber | Single chamber with turbulent blend |
| Maximum fuel pressure | 3445 Kpa (500 psi) |
| Fuel consumption @ 3 flames | 284 l/h ( 75 gal/h) |
| Fuel | Diesel |
| Vaporizer section | With stainless steel coiled tubes manifold |
| Serial number | 81133641 |
| Maximum pressure | 137 Mpa |
​
| ENGINE | |
| --- | --- |
| Manufacturer | DIESEL ALISON |
| Type | GM 12V-71 |
| Serial number | 12VA083037 |
| Power | 360 Kw (480 Ks) on 2100 rev./min |
| Maximum fuel consumption | 100 l/min |
| Oil pressure | 105 – 5480 Kpa (15 – 80 psi) |
| Oil volume | 59 l (15.5 gal.) |
| Cold fluid volume | 113 l (30 gal.) |
| Fuel reservoir | 1135 l (300 gal) |
​
| TRANSMISSION | |
| --- | --- |
| Manufacturer | DIESEL ALISON |
| Type | CLT 755 |
| Serial number | 2510123557 |
| Maximum power | 317 Kw (425 Ks) on 2100 rev./min |
| Oil pressure | 890 – 1710 Kpa (130-250 psi) |
| Oil volume | 76.5 l (18 gal.) |
​
| HYDRAULIC SYSTEM | |
| --- | --- |
| Oil pump | Three section |
| Manufacturer | COMMERCIAL SHEARING |
| Type | P50B27860Y615-11BV1C12-1CP30A291SPAB05-22 |
| Oil volume | 378 l (100 gal.) |